Received my first rejection letter today, along with my slides and CD. No big surprise there, really. I expect more than a few of these in my life — I once tried to publish short stories, and have many a rejection letter from that little escapade.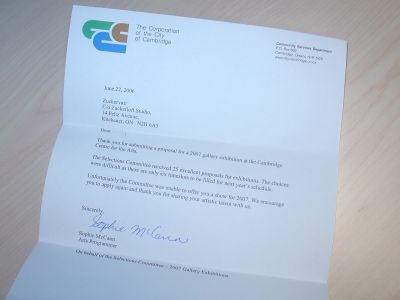 Still, at least they returned my slides. I invested a lot of time to get those made, and I was a little worried they weren't going to come back. CDs, on the other hand, are a dime a dozen (or thereabouts), so I really would rather submit stuff on CD.
I suppose the quality of paintings can be faked easily in digital media. You can retouch digital images to your heart's content, but slides are harder to do. All the same, my slides were crappy, so if you compare the slides against the digital photos, my work lies somewhere in-between the retouched digital images and the poor-quality slides.