Now who would try to steal a 3 ton Henry Moore sculpture?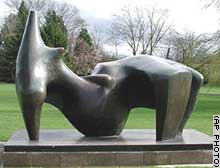 LONDON, England (Reuters) — British police hunted for three men on Saturday who stole a huge bronze Henry Moore sculpture worth up to 3 million pounds ($5.3 million) and a spokesman said they feared the piece would be destroyed for scrap.
Police said the 3.5 meter long (11 feet, 5.8 inches) sculpture, "A Reclining Figure," was stolen from the Henry Moore Foundation in Hertfordshire, north of London, on Thursday night by three men who drove it away.