Got a nice style. One that's getting pretty close to something I was thinking about.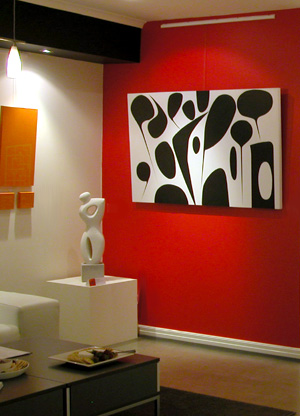 Artists Online : Dee Adams
Dee Adams' history as an artist spans the worlds of traditional art, graphic design, advertising design, and technical illustration. Born in the US, Dee spent time studying art and biochemistry at Ithaca College and Cornell University originally pursuing a career as one of the top scientific technical illustrators in her field. Seduced by the world of graphic design and advertising, Dee went on to San Francisco to work for such companies as Yahoo!, Microsoft, Disney, and various media and film studios.
It wasn't until several years ago that Dee made her way back onto the traditional art scene with shows in both San Francisco and New York. Her style has been described as contemporary bold minimalism with an edginess inspired by technology.